Photographs (Present: Miscellaneous)

Please select a time period below to view the photographs.
Art Jr. and his brother Pat Rooney exit the Peninsula Hotel in NYC to attend Mass at St. Patrick's Cathedral before the St. Patrick's Day parade -- where Art's brother Tim served as Grand Marshal.
Art Jr's brother Tim Rooney, who was Grand Marshal in the 2006 St. Patrick's Day Parade in NYC.
Pictured above, Tim Rooney's wife June on left, Tim in the center and Art Jr.
Conor Rooney Mara and Miss America.
Tim Rooney giving a speech at the St. Patrick's Day gathering the night before.
Tim Rooney, Jr. (left) and Mike Rooney (Middle) enjoy walking in the parade. Dan Mara just behind Mike to the right.
Art marching up 5th Avenue during the parade just in front of Miss America.
Art Jr. admires his cousin Kathy's handiwork in creation of this poster.
John Rooney, Pat Rooney, Tim Rooney and Art Rooney Jr.
Palm Beach Yacht Club - April 2009
Tim and June Rooney at Tim's induction into the Harness Racing Hall of Fame
Goshen, NY - July 2009
Sgt. Martin, US Army, showing his love of Pittsburgh sports
L.C. Greenwood enjoys the unveiling of another piece of artwork created by Art Rooney, Jr. by his commissioned artist Denny Karchner.
Commissioned artist Denny Karchner signs one of his latest creations with Art Rooney, Jr. for an up coming charity event. Photo courtesy Denny Karchner
Most color photos by Art Jr.'s son Michael Rooney.
Other pictures by Ron Grove, Sue Rooney-Lewis and Others.
Buy The Book


Click here to
purchase Ruanaidh in softcover, hardcover or e-book format.

Artwork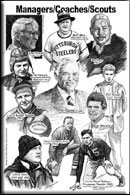 Click here to view the artwork of Ruanaidh
Photographs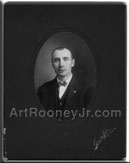 Click here to view a photographic history of the Rooney family