Photographs (1930's - 1960's)

Please select a time period below to view the photographs.
One of the beer labels from the old Rooney Brewery back in the 30's.
Art Rooney, SR. and friends Jackie and Billy Conn.
(Left to Right) Barney McGinley, Captain Jack McGinley, US NAVY, Tom Rooney, USMC, and Art Rooney, Sr. in 1943.
Uncle Jim Rooney - Art Rooney Sr.'s brother
Art Rooney Sr. and his wife Kathleen (Kass)
Arthur J. Rooney, Sr.
Art Rooney, Sr. at his farm named Shamrock Farm - located in Eastern Maryland. The Rooney's still own and operate Shamrock Farm to this day.
Here is a look at the North Side back in 1966. Notice the "Bridge to nowhere" which is now named the Fort Duquesne Bridge.
Pennsylvania State Senator James Coyne, 43rd District, 1923-1935
Art Rooney Sr.'s brother Dan who became a priest known as Fr. Silas. Photo is from March 20, 1957 at St. Anthony's Shrine, Boston, MA.
Buy The Book


Click here to
purchase Ruanaidh in softcover, hardcover or e-book format.

Artwork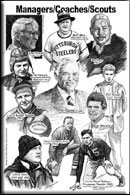 Click here to view the artwork of Ruanaidh
Photographs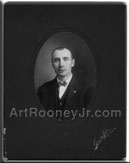 Click here to view a photographic history of the Rooney family