Part memoir, part anecdotal history of Pittsburgh's North Side, where the author grew up, and part football book, "Ruanaidh" follows to its conclusion the extraordinary life of Art Rooney, Sr. - the Chief. The strange-looking title (pronounced Ru-ah-nee) is the Gaelic word for Rooney. Candid personality portraits of almost everybody in the Chief's wide orbit are mingled with tales from Art Rooney, Jr's own high school and college football-playing days, from his time as a failed drama student in New York, from his six months of boot camp training with the Marines, and from his subsequent career as personnel director of his father's football team, the Pittsburgh Steelers.

Born in 1935, Art Rooney, Jr., is the second of the Chief's five sons. He listened to his father's stories and observed him in action, attempting to understand how this small-time politician and big-time horse player ended up as a beloved folk hero, the creator, after many false starts, of a football dynasty, and "a great American sportsman." For obvious reasons, the picture of Art Rooney, Sr. that emerges could not be more fully drawn.

There emerges, also, in "Ruanaidh," a marvelous supporting cast of relatives, in-laws, colleagues, rivals, hangers-on, and free spirits, of saints and sinners, titans and nobodies. About each there are stories that only a Ru-ah-nee could have known. In the 1970s, it was Art Rooney, Jr. who supervised the scouting and drafting of the Steelers' first four Super Bowl championship teams. And here he relates, with no animosity, his quest for talented players that would lead the Steelers to NFL Championships.
Buy The Book


Click here to
purchase Ruanaidh in softcover, hardcover or e-book format.

Artwork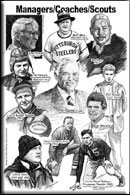 Click here to view the artwork of Ruanaidh
Photographs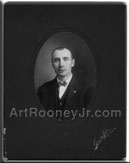 Click here to view a photographic history of the Rooney family