Artwork

The following pieces of artwork were created by several artists over the years.
Pictured below is the cover of the RUANAIDH book by Art Rooney, Jr with Roy McHugh. The pictures were painted by Merv Corning and the dust cover was created by Kathy Rooney.
Montages of all the drawings were assembled by Art Rooney, Jr.'s cousin Kathy Rooney.

Artists of individual pictures within the Montage are (Left to Right):

Top Row - Baseball cap - Merv Corning; Portrait Looking Right - Dino Guarino; Boxing - Merv Corning; Young baseball player - Kathy Rooney; Wild hair looking left - Merv Corning

Middle Row - Looking Right - Merv Corning; Looking straight - Dan DeBonis; Grabbing cigar - Dino Guarino; Hat and smile with cigar - Dino Guarino; Irish cap - Merv Corning

Bottom Row - Side portrait facing right - LeRoy Neiman; Looking right - Merv Corning; Facing left, Irish cap and cigar - Denny Karchner; Leaning on hand - Merv Corning
Steelers Players include (Left to Right):

Top Row - Franco Harris 1972, Fran Rogel 1950, Jack Lambert 1974, Rocky Bleier 1968, Pat Brady 1952, Lynn Swann 1974, Frank Varrichione 1955 and Mike Webster 1974

Row 2 - Andy Russell 1963, Bill McPeak 1949, Mike Wagner 1971, Armond "Nic" Niccolai 1934, Bullet Bill Dudley 1969, Ben McGee, 1964, Sam Davis 1967, Ernie Stautner 1950, Elbie Nickel 1947, Dick Hoke 1961, Bobby Lane 1958, L.C. Greenwood 1969 and Dwight White 1971.

Row 3 - Terry Bradshaw 1970, John Stallworth 1974, Ray Mansfield 1964, John Henry Johnson 1960, Joe Green 1969, Ernie Holmes 1972, and Byron "Wizzer" White 1940

Row 4 - Val Jansante 1946, Chuck Cherundolo 1941, Donnie Shell 1974, Jack Ham 1971, Dale Dodrill 1951, Jim Finks 1949, Joe Krupa 1956, Jack Butler 1951 and Mel Blount 1970
Artists of individual drawings within the montage are (Left to Right):

Top Row - Dan Rooney by Denny Karchner; Burt Bell by Dino Guarino; Bill Nunn by Dino Guarino.

Top Middle Row - Walt Kiesling by Dino Guarino; Art Rooney, Jr. by Merv Corning; Art Rooney, Sr. by Kathy Rooney

Bottom Middle Row - Buddy Parker by Dino Guarino; Dick Haley by Denny Karchner

Bottom Row - Chuck Noll, Jock Sutherland and Johnny "Blood" McNally are all by Dino Guarino
Cards From Art Rooney Jr.'s Private Collection

(Click on each picture for a larger version. Please note that these cards are not for sale.)
Buy The Book


Click here to
purchase Ruanaidh in softcover, hardcover or e-book format.

Artwork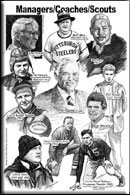 Click here to view the artwork of Ruanaidh
Photographs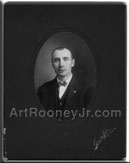 Click here to view a photographic history of the Rooney family