News

This page will contain news about reviews of the book, book signings by Mr. Rooney and any other events related to the book.
10/4/09 - "Coming Up"

—Marcia Biddle

Observer-Reporter
10/1/09 - "The book is amazing. I am originally from just south of Erie, PA. My family is of course split between Browns fans and Steeler fans. I have told my Browns family members that they need to read this book. Even though they're not Steeler fans, any fan of football will appreciate this outstanding book. Art did a wonderful job of detailing the history of the NFL, the history of the greatest franchise in the NFL, and an amazing man, AJR. Just a note to my brother and sister Steeler fans...read the book. I'm starting it for a second time."

—Mark Shreve

Richmond, VA
1/27/09 - "Art Rooney Jr. was the teams top personnel man during the ascension years, and he was sitting around watching one of those NFL Films flashbacks the other day Super Bowl IX, Steelers whack Vikings and enjoying a flashback of his own. ..."

—Tom Danyluk

Pro Football Weekly.com
12/15/08 - "There will be a book signing on Monday December 15th at 6:30pm at the Barnes & Noble Booksellers - Squirrel Hill. Art Rooney, Jr. himself will be available for autographing your copy of Ruanaidh."

—**Book Signing Notice**

Barnes & Noble - Squirrel Hill
12/11/08 - "Book signing on Thursday December 11, 2008 at 7:00pm at Barnes & Noble Booksellers - South Hills Village. Art Rooney, Jr. himself will be available for autographing your copy of Ruanaidh."

—**Book Signing Notice**

Barnes & Noble Booksellers - South Hills Village
5/6/08 - "Now THIS is a history book. Anytime I've used it to research any aspect of Steelers football, I've been able to find the facts as well as an entertaining story behind the facts. I think this is the book that defines the Rooneys and Steelers football. I'm sure that it will stand the test of time."

—Jim Wexell

Author of Pittsburgh Steelers - Men of Steel and SteelCityInsider.com publisher
4/17/08 - "In Ruanaidh, Art Rooney, Jr. thoughtfully documents his father's remarkable and engaging life, a life that embodied the American dream."

—Andrew O'Toole

Author of Smiling Irish Eyes: Art Rooney and the Pittsburgh Steelers and Sweet William: the Life of Billy Conn
3/26/08 - "Paper Steeler - Palm Beach resident Art Rooney Jr. is a deliberative kind of guy. When he decided to write the life story of his dad, Pittsburgh Steelers patriarch Art Rooney Sr. - "The Chief," as he was known - it took him 12 years to do it. Forty-one journals, napkins, and backs of envelopes, Junior said."

—Shannon Donnelly

Daily News Society Editor, Palm Beach Daily News
3/19/08 - "Art Rooney Jr. has produced an encyclopedic memoir that is informative and entertaining and populated by more real-life characters, including the Chief of the Steelers tribe, than Damon Runyon ever managed to fictionalize."

—John Troan

Retired editor of The Pittsburgh Press
3/10/08 - "This is a thoughtful and interestingly detailed history of the Pittsburgh Steelers by Art Rooney, Jr., the team's vice president, who was the master mind of arguably the greatest player draft in NFL history, which resulted in four Super Bowl victories in six years."

—William Buchanan

Retired Boston Globe reporter
2/17/08 - "Life always seems to be about fathers and sons. I was lucky enough to read Ruanaidh in it's early stages. This book by Art Rooney Jr. is a love letter to his beloved and iconic father Art Sr.. More than that, it's a fascinating telling of the Rooney history of sport and how it helped shape this great city of Pittsburgh. I agree with Gene Collier - "Art Rooney Jr. is the keeper of the flame:" may that flame burn forever in the hearts and memory of everyone who reads this wonderful story."

—Tom Atkins

Actor - "The Chief"
2/15/08 - "Telling a good story takes talent. So does making it read right in print. That's the teamwork that took place between two of the best in those fields. Art (Rooney, Jr.) and Roy (McHugh) have put together a classic. It has succeeded in making human a legend."

—Carl Hughes

Former Writer, Pittsburgh Press
2/11/08 - "A warm and witty accounting of the life and times of Art Rooney, NFL pioneer and perhaps America's greatest sportsman and artisan. The story is written with self deprecating humor of the North Side Pittsburgher. And the narrator is Rooney's son and namesake, Art Jr. In the telling we learn of intense dedication which helped turn the Steelers from tough but hapless failures into a NFL Champion and storied franchise. It is truly a worthy tale of love, redemption and ultimately unparalleled success."

—Mort Sharnik

Former associate editor and writer for Sports Illustrated
1/31/08 - "A terrific read! Funny stories, sad ones... a unique look back at the history of the Pittsburgh Steelers and their beloved patriarch."

—Tom Danyluk

Pro Football Weekly
Buy The Book


Click here to
purchase Ruanaidh in softcover, hardcover or e-book format.

Artwork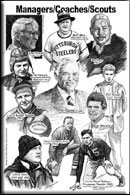 Click here to view the artwork of Ruanaidh
Photographs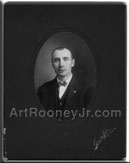 Click here to view a photographic history of the Rooney family