Arthur J. Rooney, Jr.

Art Rooney, Jr. is the second son of Arthur J. Rooney, Sr. The Chief, founder of the Pittsburgh Steelers Football Club.

Art, Jr. and his four brothers grew up on the North Side of Pittsburgh. All were educated in the Catholic schools and graduated from North Catholic High School. Art, Jr. graduated from St. Vincent College in Latrobe, PA with a degree in history and later studied drama at Carnegie Tech and in New York City. After completing his military service with the United States Marine Corp Reserves he began work within the Steelers organization. He became the scouting director and worked in that department during the formation of the great Super Bowl teams of the 1970s. Art married Kathleen (Kay) Kumer 46 years ago. They have four children, Art, III, Karen, Mike and Susan, and six grandchildren. Kay and Art, Jr. reside in Mt. Lebanon, PA.
Roy McHugh

The spare elegance of supreme craftsmanship marked Roy McHugh's column writing for the Pittsburgh Press in the second half of the 20th century. McHugh is a native of Iowa and graduate of Coe College, where he cultivated a love of both sports and language. McHugh became both sports editor and columnist-at-large during the City of Champions era in Pittsburgh's distinguished sports history. None of the heroes of that era were any more distinguished than the quiet, meticulous columnist who chronicled their triumphs and foibles. He traveled with Muhammad Ali, contributed with distinction to national magazines, and his humanity and insight was indispensable to the dozens of American journalists who have examined the life and death of Roberto Clemente, Art Rooney, Sr., Billy Conn, and many more.

Roy McHugh biography written by Gene Collier, Sports Columnist, Pittsburgh Post-Gazette
Buy The Book


Click here to
purchase Ruanaidh in softcover, hardcover or e-book format.

Artwork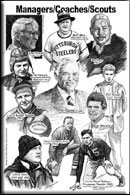 Click here to view the artwork of Ruanaidh
Photographs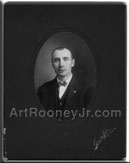 Click here to view a photographic history of the Rooney family